7 Pumpkin Skin Care Products For Healthier Skin All Year Round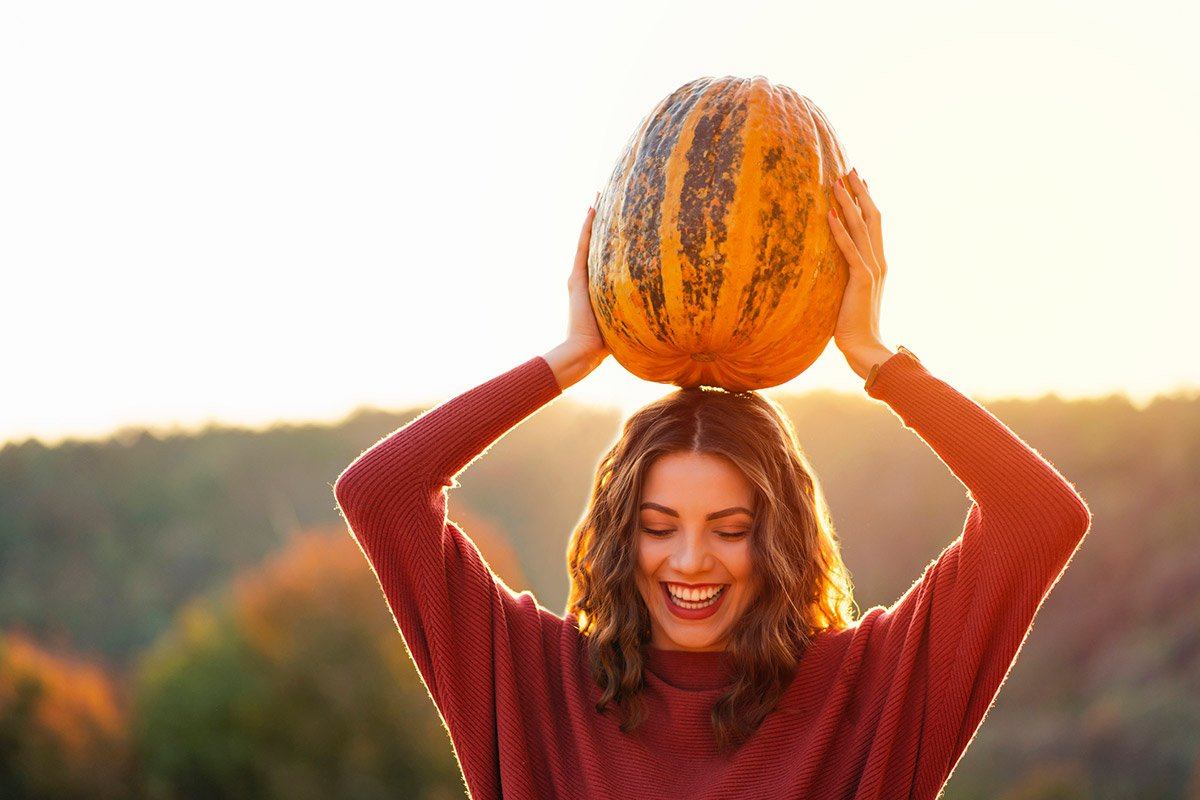 For a certain kind of person, "fall" isn't really fall at all — more accurately, it's pumpkin season. But that pumpkin puree you're about to throw in your pie/chili/protein smoothie/latte/pancakes? It does amazing things for your skin, too.
Pumpkin is absolutely packed with good-for-skin properties. First off, it's rich in alpha hydroxy acids (AHAs), fruit enzymes that exfoliate the surface of your skin and increase cellular turnover, leaving it soft, smooth, and radiant. Next, there's a raft of vitamins — A, C, and E, to be exact — which alternately work to firm up your skin, reduce the appearance of wrinkles and scarring, and balance excess oil. Pumpkin is loaded with antioxidants, too, which protect your skin from environmental aggressors that can lead to dullness and damage over time. 
Rather than smother your face in straight-up pumpkin puree (which is fine, but not the most pleasant experience ever), consider picking up one of the seven pumpkin-enriched (or pumpkin-spiced) skin care products listed ahead. As a bonus, these are some of the most luxurious, clean skin care brands out there, so you can feel really good about slathering them on all season long — and the next, and the next, and the next.
1. An Exfoliating Face Mask
In addition to organic pumpkin puree, this Andalou Naturals mask is packed to the brim with brightening ingredients, like vitamin C, manuka honey, and glycolic acid, a chemical exfoliant that buffs away dead skin cells that contribute to dullness. Most of the ingredients in here are certified organic, from nourishing sunflower oil to the brand's signature blend of antioxidant-rich plant extracts.      
2. An All-Natural Deodorant
Have you ever drunk a pumpkin spice latte and thought: I love this so much, I wish I could put it on my armpits? With this Native Deodorant, you can fulfill that hyper-specific wish. Native makes some of the best, most effective clean deodorants you can get, swapping aluminum for natural ingredients like baking soda, tapioca starch, and shea butter to absorb wetness, neutralize odor, and keep your underarms soft and moisturized. This seasonal scent is spiked with cinnamon, nutmeg, and clove — all the warm, cozy spices you love about the autumnal treat. 
3. A Skin-Plumping Serum
Plumping, clearing, brightening, hydrating — this Savor Beauty serum does literally everything, which is probably why it's a genuine cult favorite. The formula is simple, but powerful: It contains a blend of just seven oils and extracts, including the titular pumpkin seed extract, which is rich in zinc and vitamin E for conditioning the skin and fighting acne-causing bacteria. Almost everything in here is certified organic, so you can feel even better about slathering this on AM and PM. It's suitable for all skin types, too.
4. A Nourishing Body Mask
Show the rest of your body some pumpkin-spiced love with this Hempz body mask. This deliciously thick, daily rinse-off mask is enriched with smoothing plant oils like pumpkin seed, safflower seed, and sunflower seed, while apple fruit extract gently polishes away rough, bumpy patches. And the pumpkin/vanilla chai scent is basically a greatest-hits list of autumnal fragrances. So delicious, you'll want to eat it. (But don't do that.)
5. A Gentle Peel
"Peels" can conjure terrifying (and Halloween-appropriate) images of burned, red, molting skin, but this Eminence Organic enzyme peel is the exact opposite of that. It's formulated with dry and sensitive skin in mind, so it's incredibly gentle — but still super effective. This contains lactic acid, a mild AHA that polishes the surface of your skin and triggers skin-cell turnover. Meanwhile, pumpkin and yam infuse your skin with brightening antioxidants, and willow bark extract reduces the appearance of enlarged pores. Leave it on for just 10 minutes for radiant, clear, plumped-up skin. Nothing scary about that.
6. An Invigorating Facial Scrub
You're well aware by now of pumpkin's unparalleled buffing-and-sloughing abilities. But in this Glo Skin Beauty scrub, pumpkin's chemical exfoliating properties get a boost from jojoba beads, a nourishing physical exfoliant. (They're environmentally friendly, too.) Physical scrubs can be overly harsh, but even reviewers with sensitive skin rave about how soft, smooth, and refreshed this makes their skin feel. The yummy pumpkin scent is an added bonus.
7. A Firming Cream & Oil Duo
If you're hoping to firm up your skin and reduce the appearance of stretch marks, this oil-and-cream duo from Pai may be your new best friend. Both the cream and the oil contain a blend of fatty acid-rich pumpkin seed oil and pomegranate extract as their hero ingredients, which work together to improve your skin's elasticity, plump and nourish compromised skin, and protect it against future damage, thanks to their huge stores of antioxidants. This is designed specifically for pregnant women, but of course you don't need to be expecting to benefit from this two-part system. Pai is one of the absolute best brands for sensitive, allergy-prone skin, since all their products are free of fragrances, dyes, and other common irritants. Plus, the ingredients in both the cream and the oil are almost entirely organic.   
---