Celebrate Pride With These 7 Rainbow Eye Looks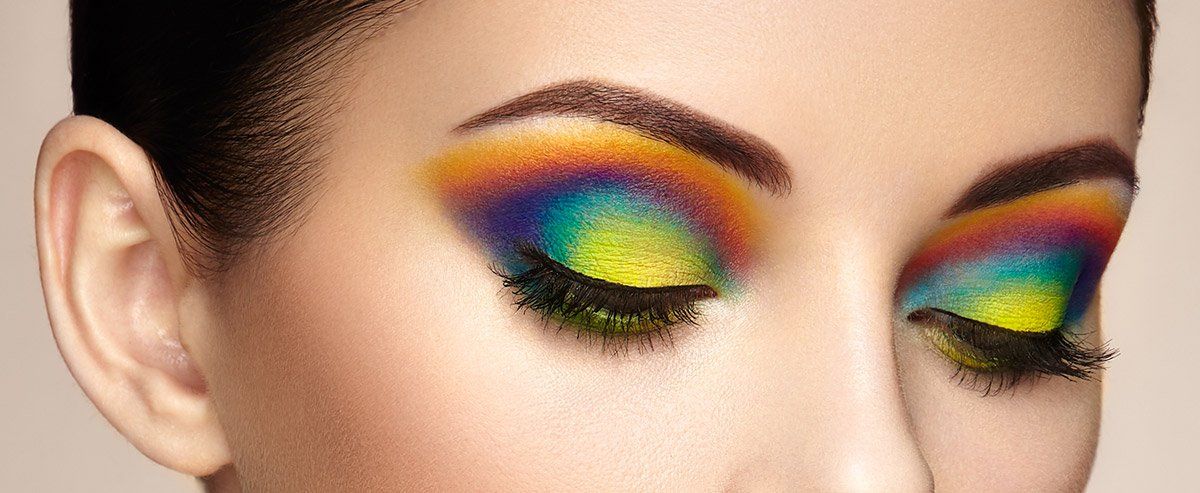 Pride parades around the world have been cancelled due to the coronavirus pandemic, but that's no excuse not to celebrate Pride this (and every other) month. And if you're reading this, you're probably a makeup fan. So why not harness Pride's joyful spirit and channel it into some colorful, innovative, and celebratory rainbow eye looks? 
Ahead, you'll find seven eye looks from queer and gender non-conforming makeup artists—one for every gorgeous shade in the Pride rainbow. You may not be able to flaunt it at a Pride parade this year, but it's still an opportunity to express your creativity, individuality, and support for the LGBTQ+ community. (And take some selfies while you're at it.)     
1. Red
Red is all about power, passion, heat, and drive. For a bold-but-moody take on red, try this eye look by makeup artist Jordan Liberty. Leave your eyelids bare (or coat them in an eye gloss), then blend an oxblood shadow into your creases, your lower lids, and wing it out. Matching red lips (smudged or not) optional.  
2. Orange
Orange represents vitality, creativity, inspiration, and bliss, and this look by Zackary Vang exudes all of the above. Lounging in a field of poppies probably helps with the latter. But this pigmented band of neon orange shadow, sharp cat eye, and the most voluminous falsies you can get your hands on is guaranteed to lift your mood, poppies or no.    
3. Yellow
Golden retrievers, lemonade, Beyonce's dress in the "Hold Up" video, the literal sun—how could yellow not make us feel happy? It might seem like an intimidating color to put near your eyes, but YouTuber Julie Vu shows us how it's done: Just trace a line of yellow shadow—the more neon, the better—above your standard-issue black liquid liner. (Pro tip: You can do this with literally any color you want.) Highlight your inner corners with a dab of glitter to boost the party quotient. 
4. Green
Green is most associated with money and nature—which may seem like an oxymoronic pairing, but these two concepts do share a sense of abundance, opportunity, hope, and growth. All good things! Bring a little of that into your life with this look from Darius McKiver, a.k.a. NeonMUA, who blended a gold-toned olive shadow into his lower lids. Round it out with rosy cheeks, glossy lips, and a lot of smile.
5. Blue
Blue conveys peace, serenity, and acceptance—a good tool if you want to channel your inner angel. But if you want your angel to have some edge, take inspiration from Lauren Elyse and blend a smoky, charcoal wing into your sparkly blue lids. Then be as generous with your silvery highlighter as you are in your spirit.     
6. Indigo
A blend of tranquil blue and inspired violet, indigo symbolizes wisdom, clarity, and communication with the spiritual world. It also happens to look amazing with bronze, gold, and other warm tones, as evidenced by Jade Ponce's look here. Line your lower lash line in an indigo pencil or shadow and go heavy on the bronzer. Then gild your cheekbones, the bridge of your nose, and other high points in gold-toned highlighter to brighten it all up.      
7. Violet
Historically, purple was reserved only for royalty and the very wealthy who could afford this expensive dye—just one more reason to be grateful we don't live in the past. If you're feelin' regal, take inspiration from Manny Gutierrez and his joyful riot of pink- and purple-spackled lids. A coat of glitter elevates the look to (modern) royalty status. 
---