Get Glowing This Summer With These 9 Products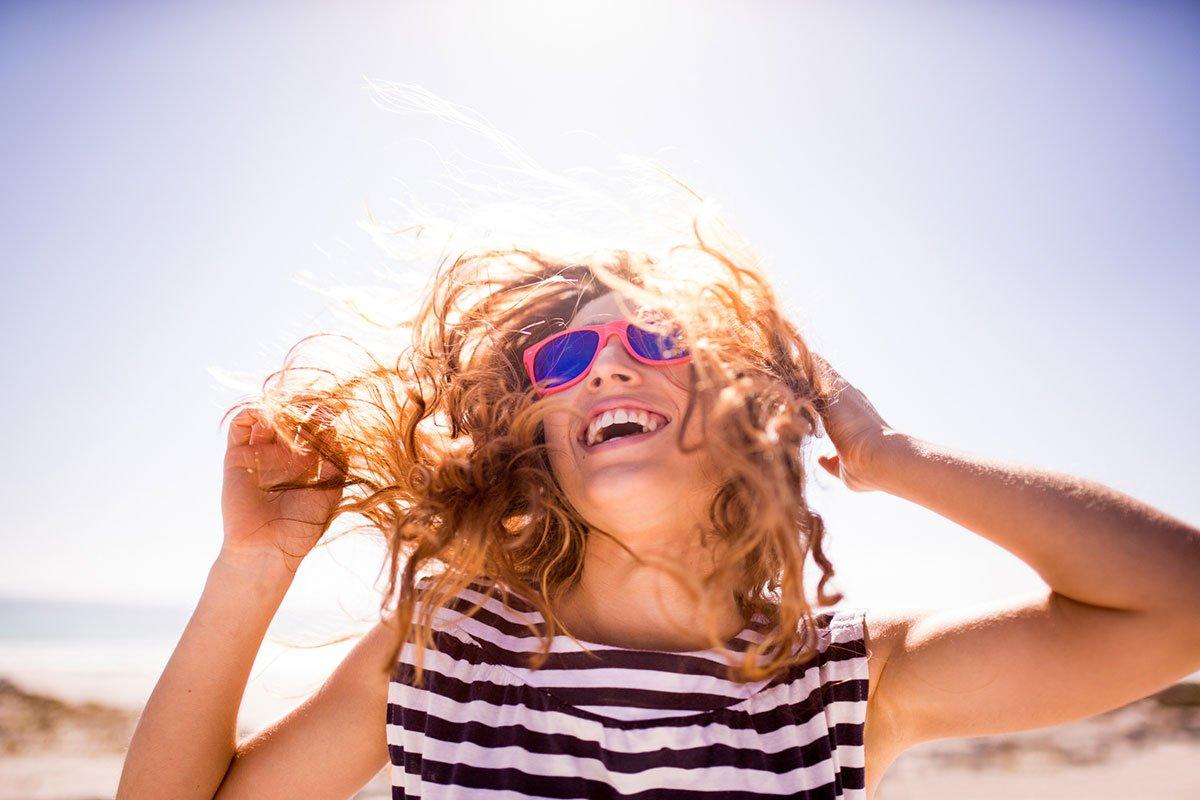 By Caroline Goldstein
In our ever-changing world, it's comforting to know that some things remain the same. Case in point: There's something about the summer that makes us want to break out all the reflective finishes in our makeup: the highlighters, the glitters, the glosses, the bronzers, the luminous fake tans. Maybe it's because summer just makes you happy (there is a reason why the human body needs vitamin C), and you want your makeup to reflect that newly bright mood. 
Whatever the reason, I've got you covered. From a luminizing sunscreen to glitter-flecked highlighters to a dewy foundation, these nine products will keep your glow going all summer long. (Or any other season, for that matter.)     
1. A Radiance-Boosting Sunscreen
You know you need to wear sunscreen every day (yes, even if you're staying inside), so you might as well get some glow out of it. This Supergoop Glowscreen Sunscreen is technically a priming lotion, but SPF 40 provides ample sun protection. In here, hyaluronic acid and Vitamin B5 work to plump and hydrate, while cocoa peptides protect your skin from blue light — crucial if you're sitting in front of a screen all day. A pearlescent finish lends a little bit of glow, which looks lovely either under makeup or on its own.    
2. A Creamy Highlighting Stick
There's no easier way to get some shine on your face than this ILIA Illuminator. Just draw it on wherever you want (cheekbones, bridge and tip of nose, Cupid's bow, the usual suspects), blend it in with your fingers, and there you have it: The skin of an angel/mermaid/unicorn/your mystical creature of choice. The formula is infused with plant-based oils and butters, so it feels super comfortable and nourishing, too. 
3. This Brightening Setting Powder
Had one too many Aperol spritzes last night? Make that a little less obvious with this Becca Under Eye Brightening Setting Powder. This loose, ultrafine setting powder contains light-reflecting pigments that illuminate dark under eye circles, blur out fine lines, and veil all manner of sin or insomnia. Antioxidant-rich raspberry stem cell extract and Australian wild berry complex boost the brightening quotient, too. This gets high marks on Sephora, where customers confirm this super-light powder doesn't crease, cake, or dry out.
4. A Tinted Tanning Lotion
There is literally no reason to tan the original (read: not good) way when you have Vita Liberata Fabulous Tinted Self Tanning Lotion in your arsenal. Unlike most self-tanners out there, this one has no funky smell, doesn't streak, and applies seamlessly. Natural ingredients like shea butter, hyaluronic acid, aloe, and fruit extracts contribute to its smooth, nourishing feel. This won't make you look like an Oompa Loompa, either — instead, you'll get a beautiful, even, radiant tan that rivals the real thing.   
5. This Eco-Friendly Highlighter Palette 
Grab this Shared Planet Sea Turtle Highlighting Palette if you like some kicky color with your glow. his palette features five unique shades, inspired by sea turtles' natural (and, yes, colorful) habitats: Lagoon, a seafoam green; Coral Reef, a bronzy coral; Sun Kissed, a true bronze; white-gold White Sands; and Oceanic, a pale blue that rivals the sun-dappled Aegean.   
6. An All-In-One Priming & Highlighting Oil
If you're more of a "moonglow" than "sun tan" person, add a few drops of Josie Maran Argan Moonstone Drops Makeup Priming & Highlighting Oil to your moisturizer, primer, foundation, or sunscreen. It's essentially Josie Maran's signature argan oil mixed with highlighter, so it'll moisturize your skin and give you a dimensional, holographic, cool-toned gleam. Feel free to run it through your hair, use it as a body oil, or an allover facial oil, too. 
7. A Two-In-One Blush & Highlighter
Another multipurpose product for your consideration: This Wander Beauty On-the-Glow Blush & Illuminator. There's a pearlescent cream highlighter on one end and a smooth, blendable blush on the other, so you have all your "glowy and flushed" bases covered. The gold packaging is super luxe, too. It comes in four blush shades, ranging from deep berry to petal pink.          
8. A Radiance-Boosting Oil Foundation
With the coverage of a light foundation, the flexible feel of a BB cream, and the dewiness of a facial oil, this Kosas Tinted Face Oil Foundation is the hybrid to end all hybrids. It blurs inconsistencies to Snapchat-filter levels, but your skin still looks like real, human skin. (Albeit extremely radiant skin.) It's available in 16 shades, so it suits lots of skin shades and undertones.         
9. These Shimmering Lip Glosses
Because there is no such thing as too much glow, top off your shimmering face with shimmering lips. All four glosses in the Shared Planet Supreme Summer Bundle have a high-shine finish with either a glittery, iridescent, or pearlescent effect. The color is buildable, too, so you can go as light or as pigmented as you want with it.
Caroline Goldstein is a commerce beauty writer for Bustle Digital Group, and her freelance writing has appeared in HelloGiggles, Refinery29, Men's Health, and other publications. Based in New York, she received her MFA in Fiction from New York University, where she taught creative writing to undergraduates and wrote her first novel.
---