How to be a "Quarantine Cutie" this Holiday Season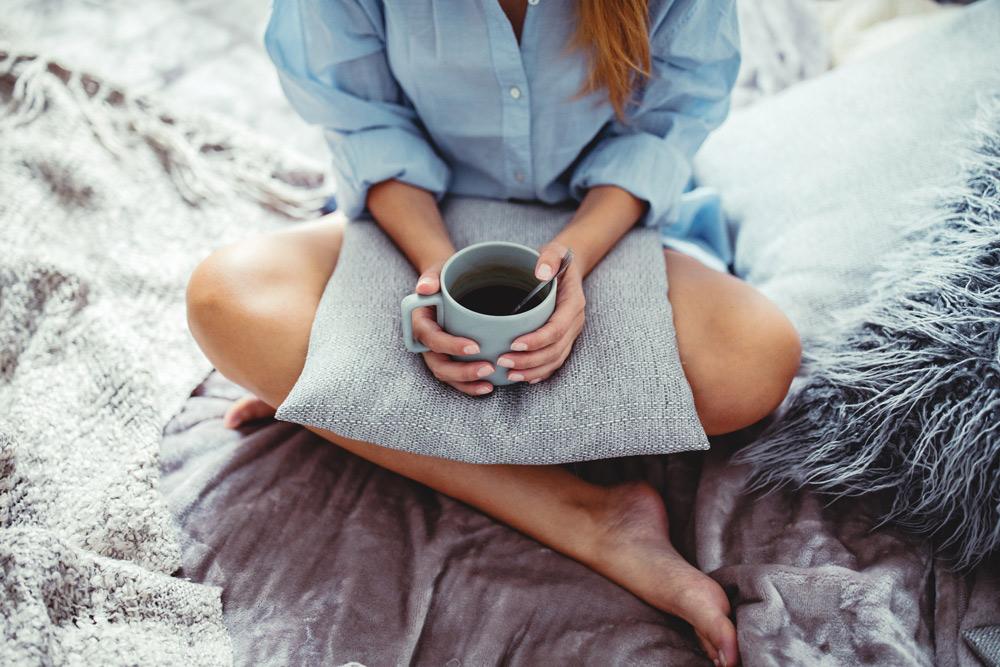 If you haven't heard the "Quarantine Cutie" story about the couple who met on the rooftops of New York during the height of the pandemic, stop what you're doing and watch it right now. Adorable, right? If love can prevail through this uncertain year, I think anything's possible. With that being said, the CDC recommends staying home to prevent the spread of the Coronavirus. So, how can you be a quarantine cutie while staying in? I've got all your stay-at-home holiday looks covered!
1. Sweat Sets
Let's be real. I've been alternating between 3 pairs of sweatpants for… you don't want to know how long. But I have a sneaking suspicion that you have too. Our days of dressing up and walking downstairs to the computer are long gone, but we can still look cute while staying comfy in sweat sets. Summersalt has matching cashmere hoodies and joggers that come in a variety of colors to keep up that quarantine cutie vibe all winter long. Plus, their apparel is made out of recycled materials, so you'll be giving back to the planet with every purchase.
2. Teddy Bears
Most of us who are planning larger get-togethers are moving the party outdoors to do so, providing a perfect opportunity to add a new coat to the closet. The teddy bear style coat is flying off the shelves, available almost everywhere you online shop. Coats that are cute and cuddly, like a teddy bear, are everything we need this winter, and faux fur is only adding to that look. Check out these coats at Outerknown, Boden and Sezane to complete your cozy coat ensemble. All three companies use ethically sourced materials, making their products a no-brainer.
3. Tie Dyed PJ's
Maybe the craziness of 2020 has translated into crazy patterns, or maybe it's just me, but tie dye sets have been popping up everywhere I look. I'm a huge fan of tie dye, but I understand that it's not something everyone chooses to wear out of the house. Since we'll all be stuck inside for the foreseeable future, though, try tie dyed pajama sets to match with the family and friends in your pod. Etsy has tons of affordable options, all handmade with love. Go to sleep in something fun and funky, knowing you've supported a local artist in the process!
4. Glitter
Yes, I know I just told you that comfy and cozy is all the rage right now, but that doesn't mean you can't break out something dazzling, even if it's just for you and your dog to see. Glitter never truly goes out of style, and I think it's what we all need right now. Make a bold statement at your holiday zoom party in this sequin Reformation dress or add a pop to your wardrobe in this glittery top. Reformation is a sustainable clothing company that uses vintage materials, leftover textiles that would otherwise be sent to landfills, and almost all natural and/or recycled fibers in their apparel. You can learn more about their detailed sustainability practices here.
And glitter isn't just part of your OOTD. Shared Planet has your cosmetics covered. Add glitter to your makeup routine with our Tiger Bundle, a combination of warm, shimmery eyeshadows and lip glosses that will make you shine! 
Maggie Blehar is a Philadelphia based writer/educator with a Bachelor's in English and a Master's in Education. She has been plant-based since 2011 and is always in search of ethical companies to support. She loves traveling, walking her dog, painting, meditation, working for social justice, digging deeper into her zodiac sign, and exploring the Philly vegan scene with friends. Some of her favorite organizations are: Don't Eat the Homies, Farm Sanctuary, CHNGE, Gentle Barn, and the Equal Justice Initiative.
---