How to Choose an Eyeshadow Palette You'll Actually Use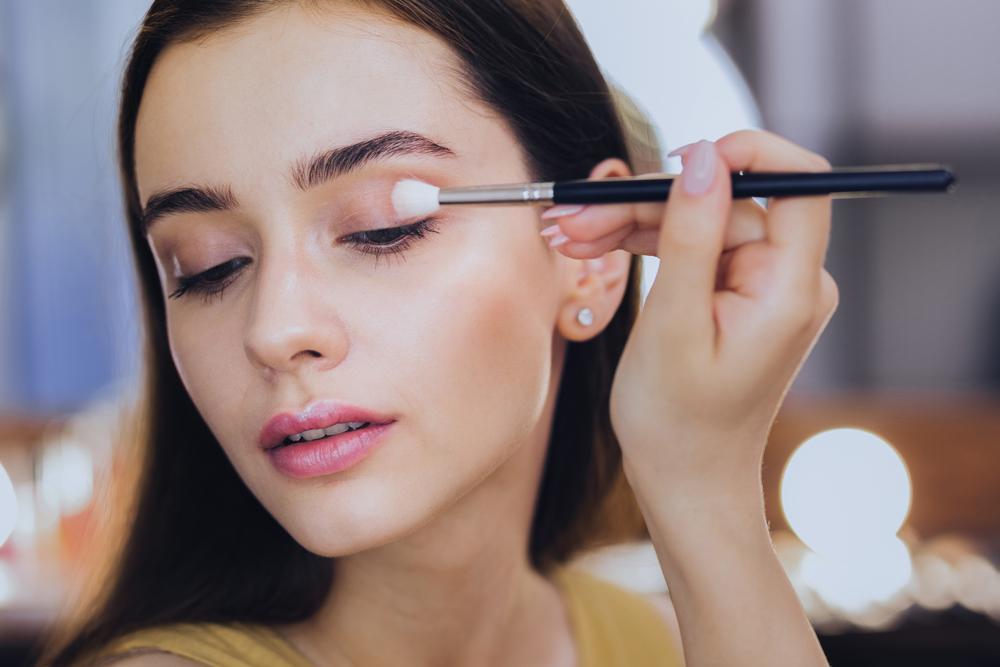 by Natasha Burton
There are few makeup items more fun than eye-shadow palettes. From mattes to glitters, bright colors to neutrals, there's a palette out there for every reason and every season. Which is why most of us have a whole drawer full of these oh-so-purchasable splurges, many of them getting little to no wear. So how do you know which are the best eye-shadow palettes for you? Well, it depends on a few factors, outlined here. With these tips under your belt, you'll be able to choose the best palette for you — and get the most use out of it. 
Use Your Eye Color as Inspiration
When selecting your ideal eye-shadow palette, the best place to start is with your own (gorgeous) face. Certain colors complement certain eye colors better, so — especially if you're a makeup novice — you'll want to choose a palette that includes those ideal shades for you. Neutral metallics look great on everyone, but if you have brown eyes you may want to consider a palette with teal or eggplant shades, while those with light blue or green eyes could rock pale pinks or grays. Don't be afraid to go outside your comfort zone when using hues that suit your eyes best—the beauty of a palette is that you get to play around with different shades without having to totally commit to one look.
Consider When You Wear Makeup
Next, you want to think about whether you need a more basic eye-shadow palette or a more colorful one. More specifically, consider when and how you tend to wear makeup. If you wear makeup to work every day — and your office is more conservative — you may want to opt for neutral browns or grays. If you only wear makeup on special occasions and holidays, and you love to go all out, then a fun, glittery palette may be best for you. If your makeup look is constantly changing or you wear makeup in various settings, you may want something that has both fun options and more basic ones. Shopping with your makeup habits in mind will help you choose a palette that you'll really get the most use of.
Determine Your Ideal Palette's Versatility
An eye-shadow palette can be much, much more than just eye shadow if you know how to use it wisely. Picking a palette with a square of black or dark brown means that with an eyeliner brush you can use those shades as liner. (You can even add water to create a wet liner look.) A palette with pinks can be used as blush too. You can even go a step further and shop for palettes with dedicated spaces for lip gloss, highlighter and more, if you're drawn to the idea of having all of your shades and makeup types in one place.
Choose Your Size Wisely
Think about how often you wear makeup, since this can determine how big your ideal palette should be. Since eye shadow has a shelf life of up to 2 years, and palettes usually have more shades in tinier amounts, you can get away with a larger palette if you wear makeup a lot and love to play with different looks. But if you're not the type to wear makeup every day, you may want to opt for a smaller palette first to see how long it lasts. There's nothing worse than having to toss your beloved makeup because it's hit its expiration date, right?
Find Your Perfect Palette
With these tips in mind, you'll be well equipped to choose a palette that suits not only your ideal makeup look but also your lifestyle — and your values. Selecting a cruelty-free and responsibly made palette is also a key factor in picking the best eye-shadow palette for you. When you care about where and how the things you use most are made, you make an ethical choice that benefits you, others and our planet. Win, win and win.
Natasha Burton has written about beauty, lifestyle and relationships for Women's Health, Livestrong, Stylecaster.com, MSN.com and Cosmopolitan.com among other print and online publications. She's also the author of five books, including "101 Quizzes for Couples" and "The Little Black Book of Big Red Flags."
---