THE LASTING IMPORTANCE OF CHILD LABOR-FREE PRODUCTS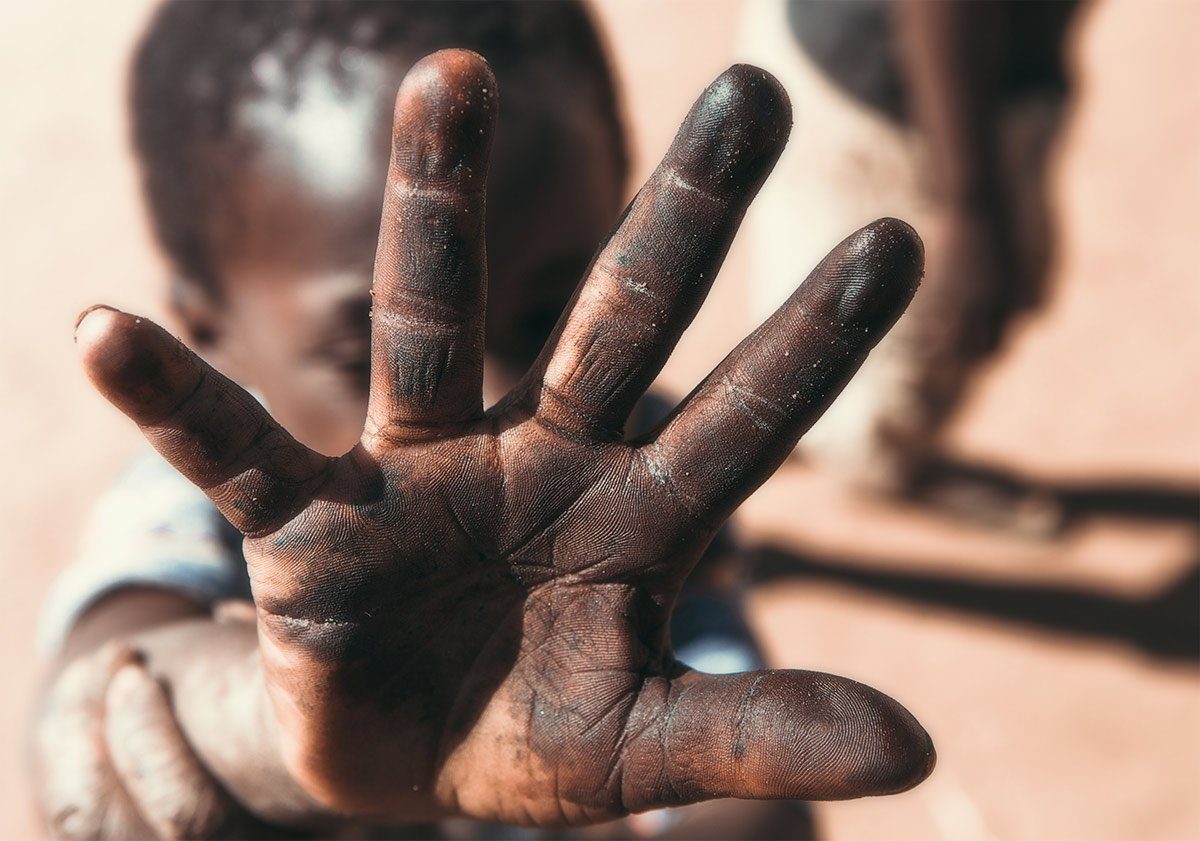 By Claudine Mininni
Make-up is an artistic medium that many people use to express their individual freedom. It's pleasurable to apply products that illuminate our skin and let us shine and glitter in the presence of others. If we really take a moment to think about it we might be curious about what's behind all that luminosity in our favorite products.
What minerals and ingredients in our most cherished cosmetics that we apply so liberally have been extracted by the hands of children? How can we acknowledge that many cosmetic products are dependent on child labor? What can be done to bring about equality for children who mine and harvest those minerals and ingredients for our favorite products and how can we end child labor? These are only some of the questions the cosmetic industry must wrestle with, and the answers may not be as readily apparent as they seem.
ALL THAT GLITTERS
CAN
CAUSE
HARM
The mineral mica used in many cosmetics like our eyeshadow, nail polish, blushes and lip glosses to bring a glittery shine and luster to our skin is most commonly gathered by children in the illegal mines of the Eastern India states of Jharkhand and Bihar. In fact, Refinery 29 reports that at least 22,000 children work illegally under dangerous conditions to their health and well-being in these "ghost" mines. With a death toll reaching up to 20 a month for children as young as five who work in unsafe environments and collapsing mines one has to pause and wonder why this is happening.
THIS DAY AND AGE
In an August 5, 2019, article put out by Reuters, Kieran Guilbert dispels the make-up world while companies increase their use of fruit, nuts, grains and minerals in their products.Even in our most natural cosmetic products child labor can be used to extract ingredients likevanilla and cacao. 
A document put out by the International Labour Organization explains the reasoning behind child labor. Poverty can send children into the workforce in a variety of conflict-ridden countries where child labor laws are not enforced. These countries may not be able to supply access to public services and adequate school facilities or teachers. Children work to stay alive and help support their families. It is only through initiatives and alternative educational funding for children and adults alike that the common perceptions and misguided intentions of those customs can change.
INVESTIGATING FOR TOMORROW
​Shared Planet and some cosmetic companies have taken the initiative to know where and how the minerals and ingredients that make up their products are mined and extracted. All Shared Planet cosmetics are child labor-free.
Refinery 29 reports that the owners and operators of these mica "ghost" mines do not readily disclose that children constitute their main source of labor. However, some large cosmetic companies have turned things around. They have supplied funds for a 2018 ground initiative that takes some children from the mines and puts them in schools and provides basic health care and other public services. They also give adults other sources of skilled work income.
So far, the Responsible Mica Initiative has created more than 80 villages and 5,800 households benefiting from such services. A village of children working with adults to educate themselves is not impossible for the children of the "ghost" mines if we keep careful watch and respond accordingly.
IT TAKES MANY
INTERDEPENDEN
T VILLAGES
We can all help these children because we are all part of one kind of village or another. We all live in cities, towns or rural areas, communities or neighborhoods. In other words, we are interdependent upon one another for our livelihoods. If you really think about it there is not one action we do that doesn't affect another human being. This is why you can make a difference,and this is exactly the sort of compassion that can lead the cosmetic industry into action. 
Let your voice and the children's voices be heard in those "ghost" mines. Know what you are buying and why. Look at the labels of the cosmetics you purchase for ethical reasons and carefully discern the products you choose to buy. By educating ourselves about the cosmeticsindustry we can bring much needed change to our communities. Support companies that are rooted in helping those communities with safe working conditions that mine the ingredients for their products. Share and inform people about child labor elsewhere in your community of family, friends and coworkers.
Don't be afraid to move forward in this day and age. Show courage in your own neighborhoods with researched purchases. Don't be a hungry ghost. They don't have the pleasure of celebrating life's freedoms.
Claudine Mininni holds an M.S. in Education from Hofstra University and an M.A. in Creative Writing from Johns Hopkins University. She is currently at work on a novel.
---