Why You Should Wear A Red Lip This Valentine's Day (And Beyond)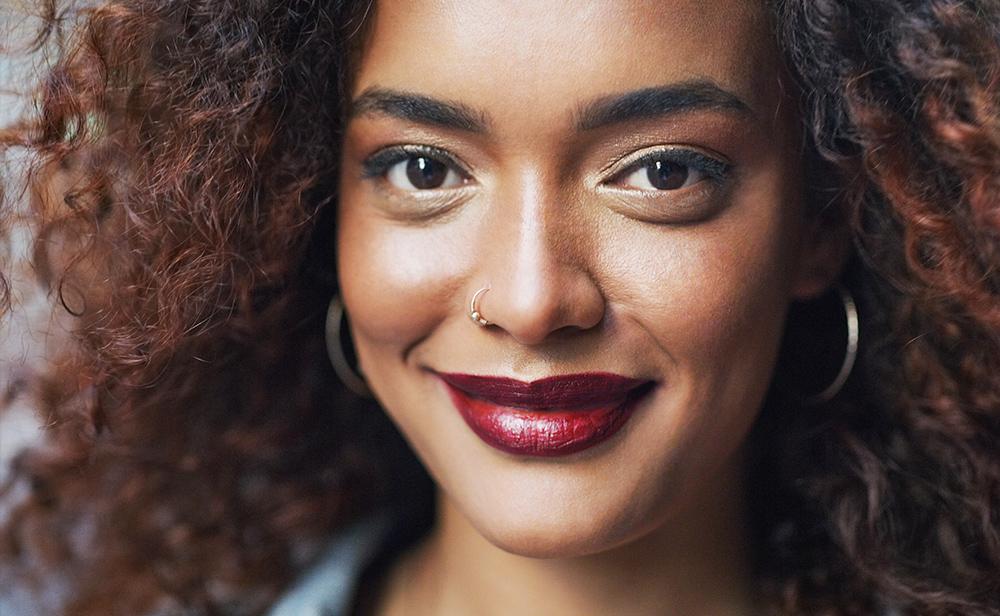 by Caroline Goldstein
Makeup is a powerful tool. Beyond its obvious aesthetic effects—bright eyes, luminous skin, glass-sharp cheekbones, or however you like your face to look in the stuff—makeup can be deeply, emotionally transformative. That smokey eye I'm wearing? It's the jolt of energy I need to power me through a night out. A swirl of bright pink blush doubles as a comforting latte. And I simply cannot face the world, and my myriad responsibilities, before a coat (or three) of volumizing mascara in the morning. 
But perhaps no makeup look is as tethered to a particular emotional state than red lipstick. A swipe of your favorite fiery shade, and boom: instant confidence, passion, and a general uptick in your joie de vivre. Funny how that's also exactly how you feel when you're in love.
Which makes red lipstick the obvious cosmetic choice for Valentine's Day, a scheduled excuse to shower your partner, pets, plants, friends, family, or (better yet) yourself in all those yummy, lovey feelings. But if you need some more convincing, here are a few more reasons why you should break out the red lips this February 14th—and any other day beyond that. 
YOU'LL JOIN A TRADITION
Exhibit A in the case for red lipstick: Wearing red lipstick connects to you centuries' worth of cosmetics lovers who've worn the pigment as an assertion of beauty and power. Evidence of red lipstick dates back to 3,500 B.C.E., when ancient Sumerians crushed red rocks and white lead to create vibrant (but lethal) lip pigments. A little later, Cleopatra crushed insects, ocher, fish scales, and other questionable substances to create her own red blend. And despite the Church of England's disapproval, Queen Elizabeth I famously donned red lips, believing that the pigment had "lifesaving powers." In the modern era, celebrities like Marilyn Monroe, Dita von Teese, Tracee Ellis Ross, and Gwen Stefani made their signature red lips just as iconic as their own achievements. So if you ever need a boost of confidence and passion, channel your favorite icon, whether ancient or modern, and break out that red lipstick.         
YOU'LL FEEL HAPPIER
Can red lipstick save your life, like Elizabeth I liked to believe? Probably not. But various studies show that wearing red lipstick has measurable psychological benefits, like making you smile more, upping your morale, boosting your self-love, and even make you feel braver.
Coco Chanel, another iconic red lipstick wearer, said it best: "If you're sad, if you are disappointed in love, put on your makeup, give yourself some beauty care, put on lipstick, and attack." 
That said, whether you're feeling disappointed or blissful in love this Valentine's Day, we can all use that extra dose of happiness, courage, and self-care packed into our favorite tubes of red lipstick. 
YOU'LL DO GOOD FOR THE ENVIRONMENT
Obviously, you don't need to do as the ancients did and crush insects or poisonous substances to get a good red lipstick. Instead, you can choose a product that's as good for the earth as it is for your body, like Shared Planet's Polar Bear Lip Gloss in Hudson Bay. This shimmery, highly pigmented lip gloss contains vitamins, antioxidants, and hydrating ingredients to keep your lips soft and smooth (and bold, of course), and the rich, blue-toned shade is designed to complement a range of skin tones. Plus, a portion of the proceeds go to Polar Bear International, an organization that conserves polar bears and their threatened habitats. Essentially, every swipe of this vegan lip gloss is an act of love for yourself and the environment. I can't think of a better way to celebrate Valentine's Day than that.
Caroline Goldstein is a commerce beauty writer for Bustle Digital Group, and her freelance writing has appeared in HelloGiggles, Refinery29, and Men's Health, among other publications. Based in New York, she received her MFA in Fiction from New York University, where she taught creative writing to undergraduates and wrote her first novel.
---