5 Makeup Artist-Approved Techniques to Master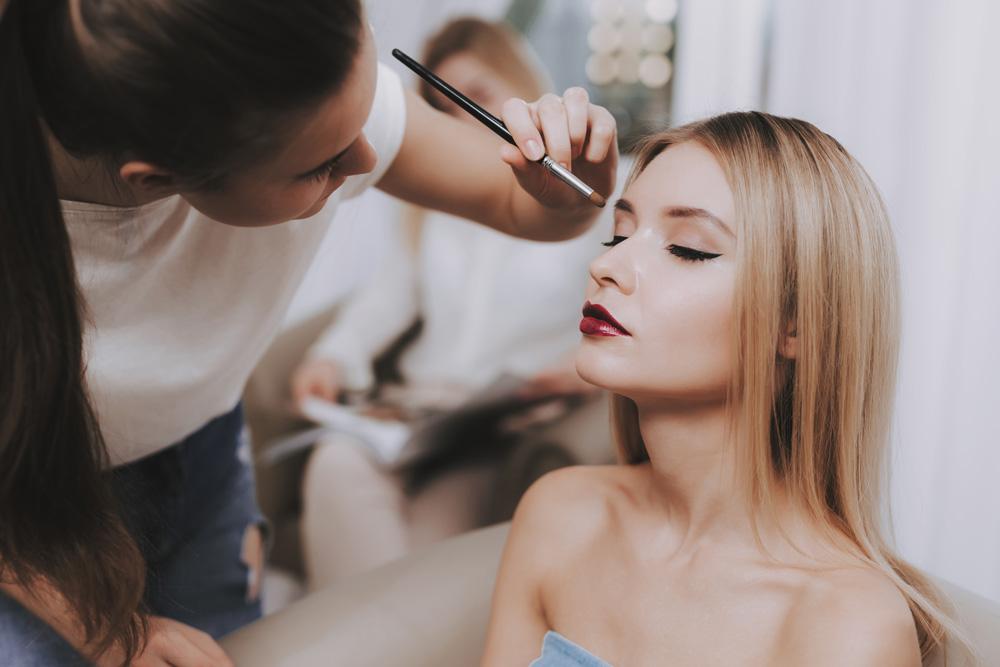 by Elizabeth Denton
You already know how to do a standard smoky eye and a basic nude lip, and those are great. But it's time to step up your makeup game. Luckily, top makeup artists show off their skills and creations right on Instagram, both on celebrity clients and on runway models. We can take makeup ideas, tips and tricks right from their pages — especially since we don't exactly have a celebrity bank account to actually hire them to do our makeup on the regular (though we can dream, can't we?). But they're right in our pocket to take inspiration from at all times.
Here, the top five makeup ideas to try the next time you're feeling a little adventurous.
1. Cut Crease
Don't think Nikkie de Jager, known online as NikkieTutorials, is just a beauty blogger. The 25-year-old is also a talented makeup artist. She's known for a few specific beauty techniques, one of which is surprisingly easy once you know how to do it. A cut crease can transform any eye-shadow look and it looks great on all eye shapes. All you have to do is define your crease with blended shadow, then use foundation or another eye-shadow shade to apply a thick layer right over your crease and on the rest of your eyelid. After you have that base, you can play around with colors and shading.
2. Halo Eyes
Makeup artist Sam Enticknap loves the "halo eyes" eyeshadow look that makes your eyes look bigger and brighter. What's also sometimes called "spotlight eyes" involves applying a lighter shade into the middle of the lid, and contrasting it with a "halo" of darker shadow blended out around it on the inner and outer corners of the eyes. By mirroring those same shades (or just applying the brighter shade) on the lower lash line, you can make your eyes look more open and awake. You can create the look with really any eye-shadow hue (though the pop in the center works best with a shimmer formula), which allows this trend to work any day of the year.
3. Perfect Red Lip
Although it might seem simple, getting a flawless red lip takes some practice. Makeup artist Lisa Eldridge is a pro at the classic look. Instead of applying lipstick straight from the tube, she uses a lip brush (or a small concealer brush) to line and fill in lips. If you don't have a lip brush around, you can use the side of the lipstick bullet to line your lips — just be careful not to go overboard, or it could look messy. For easy cleanup, apply foundation or concealer around your mouth, which will make your red lips pop. (A sparkly red gloss will help focus the attention on your lips, too.)
4. Cat Eyes
Creating a perfect cat-eye — or winged liner — is something all beauty lovers try (and let's be real, mess up) at one time or another. Makeup artist Hrush Achemyan nails it every time. You can use black eyeliner or eye shadow, which Achemyan favors, or a more natural shade to lift and elongate the eyes. Simply draw a dot on the outside corner where you want your cat eye to extend to. Then draw a line connecting the dot to your upper lash line. Draw another line underneath to your lower lash line and fill in the triangle. 
5. Ombré Lip
The ombré lip goes in and out of style, but lately makeup artist Mario Dedivanovic has been bringing it back with his friend and muse Kim Kardashian. The duo has been creating a '90s-style ombré lip using brown lip liner and a natural lipstick shade. To try the look at home, create a gradient from the outermost edges to the innermost part of the lips. You can do this with any two lipstick shades by lining your lips in the darker hue and adding the lighter shade in the middle. Blend them together with your fingers or a lip brush.
There are numerous makeup artists to look to for beauty tips, tricks and trends regardless of your skill level. These aren't the only ones, but they are some of the most doable for every day — not just special occasions. Plus, you can use whatever you have at home to play around and have fun with it. It's just makeup, after all.
Elizabeth Denton is an LA-based beauty and lifestyle writer.
---