Why You Should Step Outside Your Beauty Comfort Zone (and how to do it!)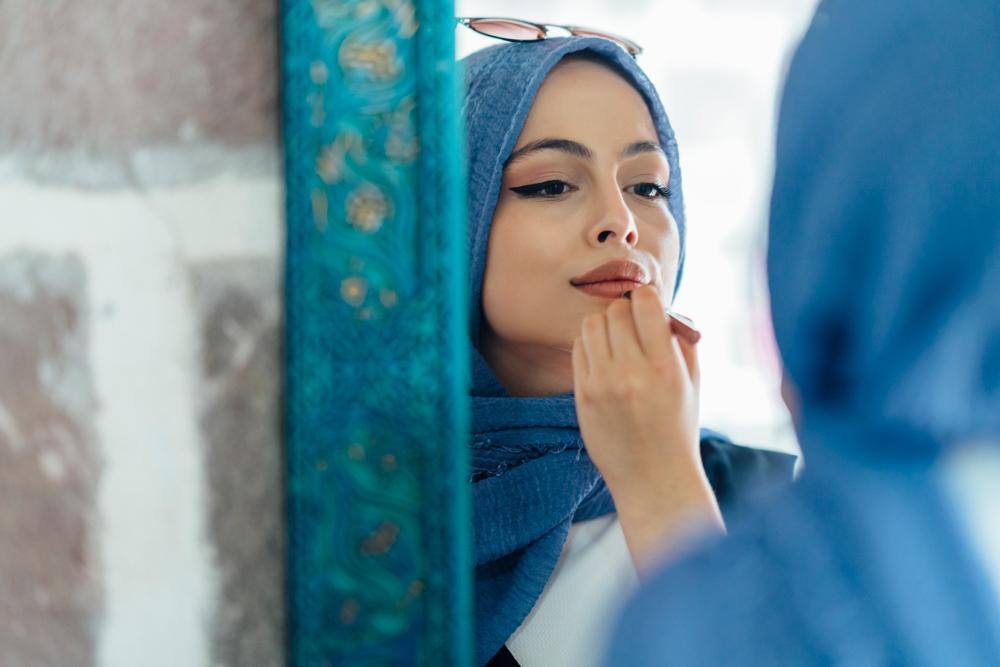 by Natasha Burton
Most of us have a go-to makeup look that we swipe on, day in and day out. Whether it's the same eye shadow every day or the same shade of lipstick we've worn for years, having these signature items in our makeup bag can feel super comforting. But playing with your look and trying new things can help you shake out of a boring routine, discover new makeup ideas and feel more confident. (As in, heck yes you can pull off a winged eye, and a bold lip!) Here's how you can step outside your beauty comfort zone and feel powerful in doing so.
Reevaluate Your Current Look — And Products
First things first: Take a look at the products you currently use, especially the colors, textures and types of items you always wear. Ask yourself if these products really make you look and feel your best or if you're using them because these are the products you've always used. If you notice that some of your shadows are nearly worn down while others have never been touched with a brush, it's worth taking pause: What's holding you back from trying something new?
Don't Be Afraid to Use Color
Color can be a little daunting at first, especially if you're used to playing it safe with your makeup. But depending on your eye color, there are a number of different hues that are well suited to you and can be even more flattering that what you're currently using. Warm-toned shadows are flattering on everyone, but orange can look amazing if you have blue eyes, while green shadow can really play up brown eyes. Lipstick and gloss can provide another color moment — for instance, if you've never tried a bold, red lip, now's the time to test it out. (Talk about a power makeup move.)
Embrace Beauty Tutorials
Maybe you've kept your makeup the same way over the years because you're unsure how else to do it. These days, however, expert makeup ideas are just a click away. Check out beauty tutorial videos online, where professional makeup artists and beauty influencers show how to apply all sorts of eyeliner looks and how to perfect trickier moves like contouring. If you've ever been even slightly curious about trying something new, a how-to video is a great place to start.
Do a Test Run
When you're trying out new makeup looks for the first time, it's best to do it in a low-stakes situation, at least until you get more confident about stepping outside of your routine and broadening your own makeup application skills. You might invite some friends over to test out new looks on yourselves (and each other!) together over a bottle of wine. Or you could try out a sexy bold lip the next time you're grabbing drinks with your BFF instead of waiting to bring it out for the first time on a first date. Trying new things can be a bit scary sometimes — making the experience less daunting will encourage you to keep exploring.
Stay True to You
In the end, makeup's real purpose is to allow you to have fun and show off your best self. So if you find that you like your signature look best, no worries! Just because you've taken the leap and branched out, that doesn't mean that you can't keep things classic and easy most of the time. Playing with your beauty look, whether makeup or hair, simply gives you the opportunity to reinvent yourself — even if only for a day. Keep exploring what makeup looks make you feel your best, because you never know what you'll discover.
Natasha Burton has written about beauty, lifestyle and relationships for "Women's Health," Livestrong, Stylecaster.com, MSN.com and Cosmopolitan.com, among other print and online publications. She's also the author of five books, including "101 Quizzes for Couples" and "The Little Black Book of Big Red Flags."
---